Ellenbrook does not have a public swimming pool, yet!
It was going to be within the Ellenbrook Districts Open Space North
Ellenbrook 6069
But things changed, see the letter below
The old plans here at the GAPP (Growth Areas Perth and Peel) website
More Info at the City of Swan website
Our local state and federal politicians have since been involved
More info on facebook here: Ellenbrook Pool Update
and here: Ellenbrook Pool Survey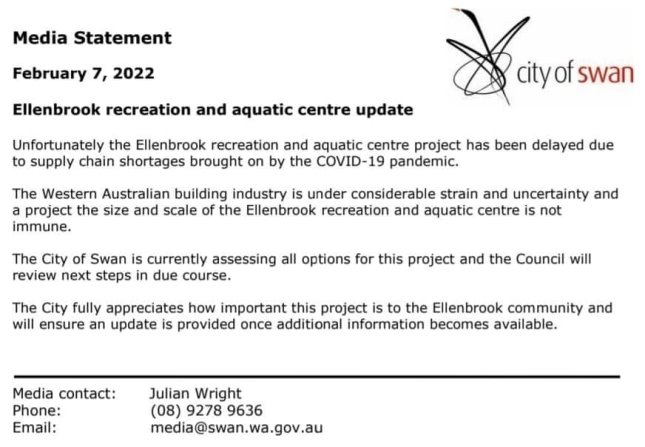 Have your Ad here! Contact Us

If you need Ellenbrook Sport Centres, Ellenbrook Sport Grounds or Ellenbrook Sport Facilities as in Recreation Centres, Leisure Centres, Playing Fields, Sports Fields, Sports Arenas, Race Tracks, Athletics Fields, Skate Parks, BMX Tracks, Tennis Courts, Netball Courts, Basketball Courts, Cricket Pitches, Football Ovals, Rugby Pitches, Soccer Pitches, Swimming Pools, Club Rooms, Pavilions or Stadiums you will find ellenbrook.net.au has the best selection of almost every Indoor Sport Facility and Outdoor Sport Facility in Aveley, Belhus, The Swan Valley, The Vines and Ellenbrook!